American celebrity chef, restaurateur, and grill master – Bobby Flay holds a lot of cool titles. He shows off his cooking skills on his very own Food Network shows, from Beat Bobby Flay to Brunch at Bobby's. So, Bobby Flay quotes must tell us a thing or two about being an all-star chef, right?
Through his many TV appearances, Chef Flay shared an abundance of truths and tips on all things in the kitchen. Above all, he talks most about his one love: grilling. This is what Chef Flay is most famous for!
No matter what your skills are in the kitchen, Bobby Flay quotes will stir some cooking creativity in you!
Bobby Flay Quotes on Grilling
"I still love making hamburgers on the grill. I guess whenever I eat them childhood memories come up for me."

"Grilling takes the formality out of entertaining. Everyone wants to get involved."

"I love the culture of grilling. It creates an atmosphere that is festive but casual."

"Obviously, the easiest recipes are the most successful when it comes to the home cook, because they're not intimidated by them. If I'm doing 'Boy Meets Grill,' and I do something very simple like grilled hamburgers or steaks or chicken, those are the most sought-after recipes."

"It is very important that when you put something on the grill, you leave it in place to cook. If you move it around too quickly, chances are it is going to stick."

"Everybody says, 'I have problems overcooking steak on the grill,' but just take it off earlier! Grilling is really common sense. It's very simple. You should think of a grill as a burner – it just happens to have grates. You shouldn't be intimidated by it."

"I think people are intimidated by grilling .. maybe it's the flame, maybe it's the big grills, maybe they've had some bad childhood experiences .. but I think that grilling is actually the easiest technique in cooking."

"When people pile seven things onto one burger, it drives me nuts!"

"I love using gas grills because they are easier to heat and it's much easier to control the flames with a gas grill than with a charcoal fire. Grilling is not just about lighting a fire."

"A grill is just a source of heat. Just like a stove, it is very user-friendly."
Bobby Flay Quotes on Being a Chef
"Cooking is a subject you can never know enough about. There is always something new to discover."

"Today, when I hire, I look for people who want to be trained and molded."

"I think everybody at some point in time has thought to themselves, 'I have a really great idea for a restaurant."

"My contribution I hope is to get people to eat full-flavored food. If I could come away with that alone, that would be a fantastic accomplishment. I'm also very proud of being a very American chef."

"Nothing goes perfectly, especially when you're opening a restaurant."

"I probably use my chef's knives more than any other tool in the kitchen. I'm not married to a particular brand, because they all work, they all have sharp blades."

"You can't chase everybody on the Internet who's saying stuff about you, that's for sure."

"Even if the chef has a good business head, his focus should be behind kitchen doors. A business partner should take care of everything in front of the kitchen doors."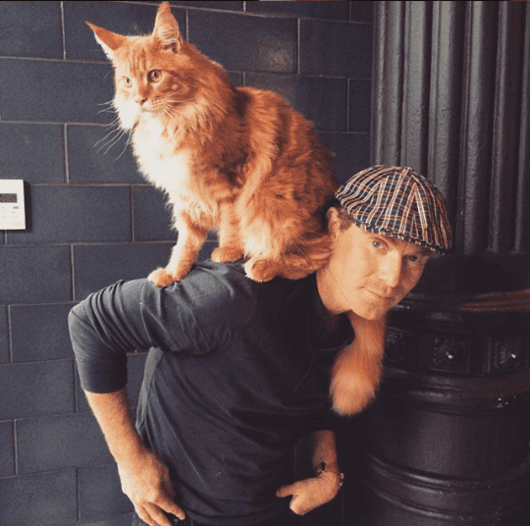 Bobby Flay Quotes on Everything in Between
"Go vegetable heavy. Reverse the psychology of your plate by making meat the side dish and vegetables the main course."

"Do you want to make a tamale with peanut butter and jelly? Go Ahead! Somebody will eat it."

"Lime juice makes things taste fresher. I use it for drinks, salsas, relishes, soups, and sauces. You want some give to your limes – firmness means the inside is dry – and they'll stay softer longer if you don't refrigerate them."

"For me, it's all about moderation. I don't kick things out of my diet, like carbs. But I'm not going to eat fast food."

"I think cookies are sort of the unsung sweet, you know? They're incredibly popular. But everybody thinks of cakes and pies and fancier desserts before they think cookies. A plate of cookies is a great way to end dinner and really nice to share at the holidays."

"If you aren't nervous about your passion, you aren't passionate about it."
If you love grilling or cooking, any quote from Bobby Flay should resonate with you. The next time you're in the kitchen or outside grilling, think of these Bobby Flay quotes – they may inspire you to create an epic meal!
Chances are if you're reading this, you're crazy about good food. Check out this collection of Food Quotes to Satisfy Your Inner Foodie here on CleverQuotes.com.