Despite his lavish lifestyle and larger-than-life persona, Freddie Mercury was a sensitive soul who longed for true love above all else. And these Freddie Mercury quotes are proof of it.
Freddie Mercury was born with four extra teeth in the back of his mouth that gave him his signature toothy grin. Fearing it would alter his famous four-octave vocal range, young Freddie – whose real name was Farrokh Bulsara – braved the taunts of his peers and refused to have them removed.
The Bulsara family were quite wealthy with a nanny and domestic servants tending to them at their Zanzibar, Tanzania home. From the age of eight to eighteen, Freddie attended boarding school in Bombay (now Mumbai), India, where he studied piano and joined his first band.
In 1964, the family fled to London when a bloody revolution broke out in Tanzania. There, Freddie attended the Ealing College of Art and eventually joining forces with the trio of musicians who would become his Queen bandmates. Queen enjoyed a meteoric rise throughout the 70s and 80s scoring 53 Top-40 singles before Freddie's death in 1991.
These 20 Freddie Mercury quotes show his vulnerability as well as his flamboyant ego.
1. "I always knew I was a star. And now, the rest of the world seems to agree with me."
2. "I won't be a rockstar. I will be a legend."
3. "You either have the magic, or you don't. There's no way you can work up to it."
4. "The most important thing is to live a fabulous life. As long as it's fabulous I don't care how long it is."
5. "Excess is part of my nature. Dullness is a disease. I really need danger and excitement. I'm never scared of putting myself out on a limb."
6. "When I'm dead, I want to be remembered as a musician of some worth and substance."
7. "The reason we're successful, darling? My overall charisma, of course."
8. "What will I be doing in twenty years' time? I'll be dead, darling! Are you crazy?"
9. "It's boring to be 70, I don't want to be there, I'll be dead and gone, I don't have any aspirations to be 70."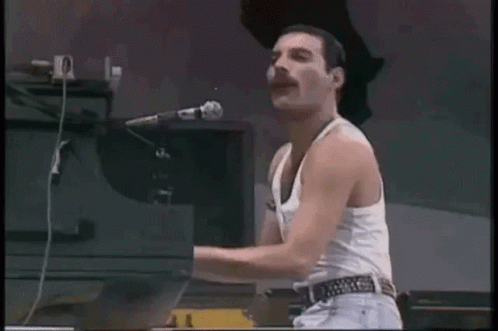 10. "Oh, I was not made for heaven. No, I don't want to go to heaven. Hell is much better. Think of all the interesting people you're going to meet down there."
11. "When I'm dead are they going to remember me? I don't really think about it, it's up to them. When I'm dead, who cares? I don't."
12. "I'm possessed by love – but isn't everybody?"
13. "In terms of love, you're not in control and I hate that feeling. I seem to write a lot of sad songs because I'm a very tragic person. But there's always an element of humour at the end."
14. "I am a romantic, but I do put up a barrier around myself, so it is hard for people to get in and to know the real me."
15. "I'm a very emotional person, a person of real extremes, and that's often destructive both to myself and others."
16. "One year of love is better than a lifetime alone."
17. "I love the fact that I can make people happy, in any form. Even if it's just an hour of their lives, if I can make them feel lucky or make them feel good, or bring a smile to a sour face, that to me is worthwhile."
18. "Can you imagine how terrible it is when you've got everything and you're still desperately lonely? That is awful beyond words."
19. "You can have everything in the world and still be the loneliest man. And that is the most bitter type of loneliness, success has brought me world idolization and millions of pounds. But it's prevented me from having the one thing we all need: A loving, ongoing relationship."
20. "I'm not afraid to speak out, and say things that I want to do, or do the things that I want to do, so um, I think in the end, being natural, and being, being actually genuine is what wins."
If you enjoyed this collection of Freddie Mercury quotes, don't forget to share them with someone else you know who is a fan of this late legend, too.