It's hard to not love Matthew McConaughey. Not only is he an incredible actor, but also a fine example of a classic Southern gentleman. He is a proud father, humanitarian, and, most of all, a Texan. Matthew McConaughey quotes are a prime example of that.
Whether or not you are a Matthew McConaughey fan, this actor has some pretty wise words on everything from success to family. You won't regret reading any of these Matthew McConaughey quotes!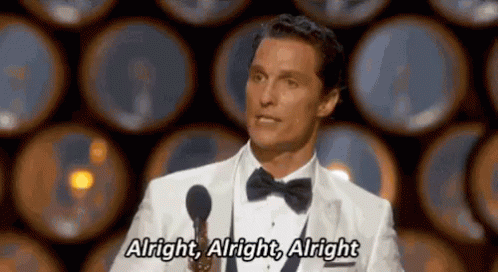 Matthew McConaughey Quotes on Being a Texan
"Steinbeck says it's a state of mind…In Texas, there is a certain honor of being a Texan that is a measure of doing something the best that you can."

"But there is a real independence in Texas. When we say it's a country unto its own, it is a little different from the other places in the South. We love to say, 'Oh, we can still secede.' We're not going to secede. But we love to remind people of that."

"A Southern dude with a groovy attitude? To that we say, "alright, alright, alright."

"Longhorn Nation, what's happening? McConaughey here. How we doing out there gang? Yeah, man, crazy times, huh? We're all in 'em. Let's remember that. Let's also remember that this too shall pass, we're going to be getting through this. Keep that in your minds when you start getting frustrated with how your lifestyle has changed. We are going to get through this, if we help ourselves and we help each other."
Matthew McConaughey Quotes on Life
"Life is a series of commas, not periods." 

"There are three things, to my account, that I need each day. One of them is something to look up to, another is something to look forward to, and another is someone to chase."

"The good part about jealousy is that it comes from passion. It's also the dangerous part and it's an ugly emotion that hurts." 

"Now first off I want to thank God, because that's who I look up to. He has graced my life with opportunities that I know are not of my hand or of any human hand. He has shown me that it is a scientific fact that gratitude reciprocates."

"The first step that leads to our identity in life is usually not 'I know who I am,' but rather "I know who I am not' process of elimination." 

"I talk to myself all the time. Just make sure you answer." 

 "Give thanks. Appreciate what you do have…the more we give thanks, the more we receive to be thankful for. Gratitude is the gift that always gives back." 

"My rule is to break one sweat a day." 

Matthew McConaughey Quotes on Success
"Keep your head up. We'll get out of this on the other side because that's just what we're gonna do." 

"Every hero doesn't do this great big hero thing. They do the simple thing over and over…and they stick to it."

"Instead of denying these fears, declare them, say them out loud, admit them, give them the credit they deserve…Find the courage to overcome them."

"There's two sorts of fear: one you embrace and one you should listen to and turn the other way." 

"You want to be a writer? Start writing. You want to be a  filmmaker? Start shooting stuff on your phone right now."

 "If I'm doing something I do like to take it to the limit. I've got a high ceiling. A wide threshold for seeing what those boundaries are for myself. I'm very resilient inside. I find things that I like and do and boy, I do like to stick to them." 

"Life's barely long enough to get good at one thing. So be careful what you get good at."
Matthew McConaughey Quotes on Family
 "Sometimes loving your kids means giving them just what they want. Other times it means tough love."

"Best thing you could probably do as a father is make sure they see how you love their mother."

"Loving a child is a lot harder if you really give a damn. 'No' takes a lot more energy. It's a lot easier to say 'yes."

 "I don't want to just revolve. I want to evolve. As a man, as a human, as a father, as a lover."

(on his Mother) "She was a typical Texan mom. She would stand no nonsense. If I woke in a grumpy mood she'd come up to me and—wham!—hit me on the side of the head."
Mr. McConaughey has some fascinating things to say about life. His words are sincere and true to the heart. 
So, which Matthew McConaughey quote did you love the most? Don't be shy to share your favorite Matthew McConaughey quotes (and movies!) in the comments below!